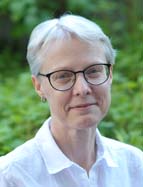 Eva Ragnarsson Senior consultant
PhD, Pharmaceutics
eva.ragnarsson@regsmart.se
+46 (0) 730 – 67 57 37
Eva is a pharmacist, with vast experience from a wide variety of drug product formulations intended for different administration sites, e.g. oral, parenteral and dermal routes.
Most recently, Eva comes from the Swedish Medical Products Agency, where she spent 15 years as a chemistry and pharmaceutical assessor evaluating the quality of drug substances and drug products prior to authorization. Her responsibilities included provision of scientific advice, review of clinical trial applications as well as market authorization applications and variations.
Further experiences cover early pre-formulation work, cell-culturing techniques, imaging techniques and teaching.
Eva has a special interest in age-appropriate formulations for children and formulations for animals.