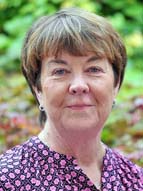 Sinéad Breen Senior consultant
B Sc Pharm, Pharmacy
sinead.breen@regsmart.se
+46 (0) 763 – 95 77 39

Sinéad is an expert in the field of Regulatory Affairs, with vast experience from leading QA and Regulatory Affairs roles within the pharmaceutical as well as medical device industries.
She has worked at a number of start-up and Big Pharma companies. Most recently, she held the role as Head of Regulatory Affairs with Galderma, heading up the team responsible for the Galderma Medical Device portfolio. This was a Global role with responsibility for Global Regulatory Strategies in order to optimise time to approval and market. Sinéad has worked with both new registration applications as well as regulatory maintenance across most countries in the world and has extensive knowledge and experience of US, China, European and other regulatory affairs environments.
She has worked extensively with matching company commercial strategies with the reality of Regulatory constraints. Being a strategic thinker, she uses her ability to see the big picture, handling potential problems with that in mind.
Sinéad is looking forward to providing valuable regulatory and strategic input to new and existing projects, for the benefit of customers, patients and healthcare.